The Elytra Filament Pavilion at the Vitra Campus
---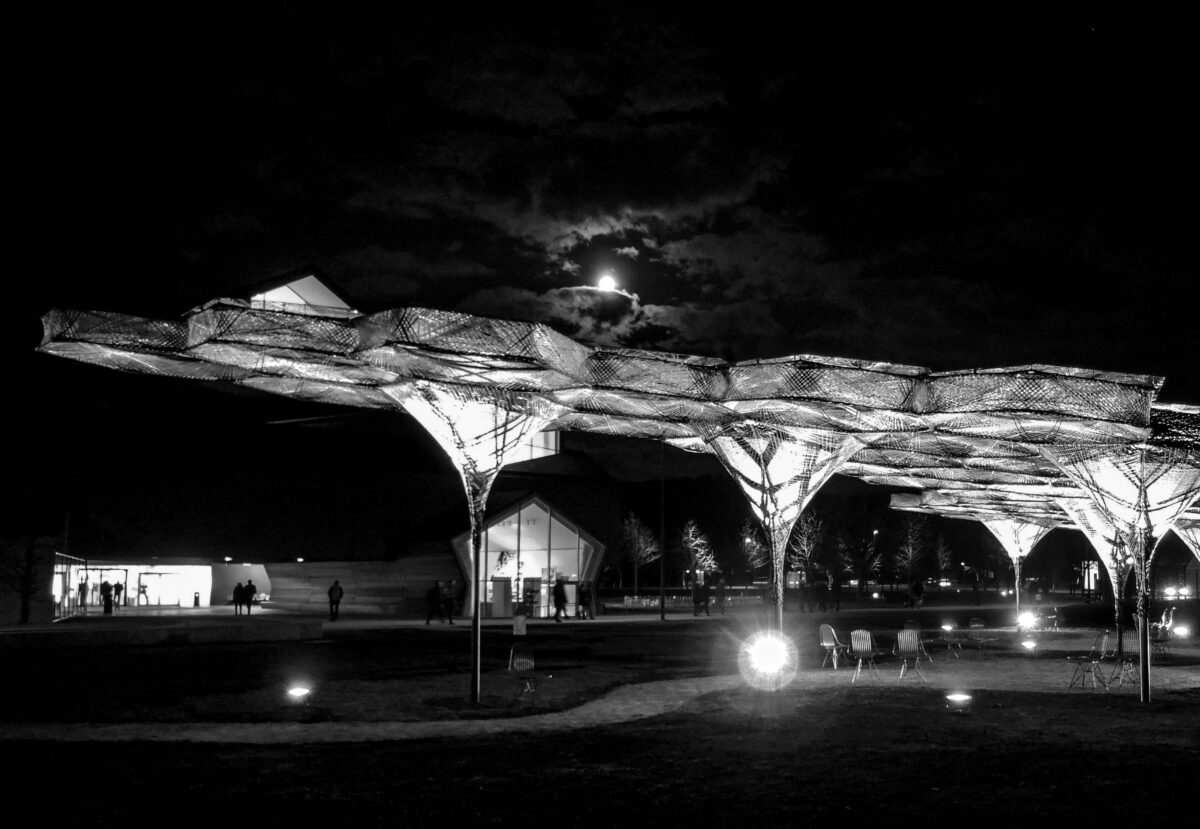 Relocating a Modular Fibrous Pavilion
Following it's highly successful premiere at the V&A Museum in London, the Elytra Filament Pavilion was demounted, transported to southern Germany and reinstalled at the Vitra Campus in Weil am Rhein.
The Vitra Campus is a field of experimentation for architecture and design and world renowned for its exquisite accumulation of buildings designed by prominent international architects such as Nicholas Grimshaw, Frank O. Gehry, Zaha Hadid, Buckminster Fuller, Tadao Ando, Álvaro Siza, Herzog & de Meuron and SANAA.
The Elytra Filament Pavilion is exhibited as part of the "Hello Robot" exhibition at the Vitra Design Museum, which examines the various aspects of robotics in all domains of our lives. The project showcases the architectural design and construction potential for robotically fabricated lightweight filament structures. There is now a post on the Vitra website describing the projects and showing some great new photos of the installation.
ITKE Research Associate and Innochain Researcher James Solly (ESR08) was a member of the design team for the original installation and one of the group responsible for the relocation of the structure from London to Weil am Rhein. James was on site for a snowy first week, setting out the pavilion and landscaping and installing foundations plus initial column components. He was followed by colleagues Valentin Koslowski (ITKE) and Moritz Dörstelmann (ICD) who completed the installation in time for the "Hello Robot" preview event on February 10th. Throughout the process, the ICD/ITKE team were supported by a group of local riggers employed by Vitra.
The moving of the Elytra Pavilion was a fairly simple process, primarily due to the lightweight nature of every part.
These night-images were taken at the opening event by James:
Installation
This short video was produced to show the installation:

Additionally, the posts below by Moritz Dörstelmann are great shots of the pavilion getting close to completion
Project Credits
DESIGN, ENGINEERING AND FABRICATION TEAM
Achim Menges with Moritz Dörstelmann
ICD – Institute for Computational Design, University of Stuttgart
Achim Menges Architect, Frankfurt
Team also includes: Marshall Prado (fabrication development), Aikaterini Papadimitriou, Niccolo Dambrosio, Roberto Naboni, with support by Dylan Wood, Daniel Reist
Jan Knippers
ITKE – Institute of Building Structures and Structural Design, University of Stuttgart
Knippers Helbig Advanced Engineering, Stuttgart, New York
Team also includes: Valentin Koslowski & James Solly (structure development), Thiemo Fildhuth (structural sensors)
Thomas Auer
Transsolar Climate Engineering, Stuttgart
Building Technology and Climate Responsive Design, TU München
Team also includes: Elmira Reisi, Boris Plotnikov
With the support of:
Michael Preisack, Christian Arias, Pedro Giachini, Andre Kauffman, Thu Nguyen, Nikolaos Xenos, Giulio Brugnaro, Alberto Lago, Yuliya Baranovskaya, Belen Torres, IFB University of Stuttgart (Prof. P. Middendorf)
Commission:
Victoria & Albert Museum, London 2016


FUNDING
The Elytra Filament Pavilion on the Vitra Campus has been realised with the generous support of:
Design Circle – Freunde des Vitra Design Museums e.V.
GETTY LAB
University of Stuttgart
The Elytra Filament Pavilion has been produced with the support of:
Victoria & Albert Museum, London
University of Stuttgart
Getty Lab
Kuka Roboter GmbH + Kuka Robotics UK Ltd
SGL Carbon SE
Hexion
Covestro AG
FBGS International NV
Arnold AG
PFEIFER Seil- und Hebetechnik GmbH
Stahlbau Wendeler GmbH + Co. KG
Lange+Ritter GmbH
STILL GmbH