Innochain Winter School October 2017
---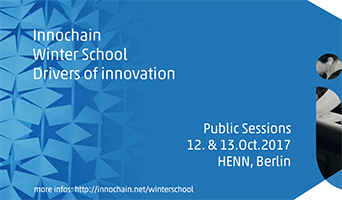 Innochain Winter School –  Drivers of Innovation, hosted by HENN, Berlin
Date: October 12-13, 2017
HENN will be hosting the Innochain Winter School 2017 and we herewith cordially invite you to join us for 2 days of great presentations, discussions and exhibition at our premises in Berlin.
Innochain Early Stage Researcher (ESRs) and their Industry Partners (IPs) as well as Universities are asked to describe how their research will make a difference to society and the building profession in both a short and long-term perspective. Together with you, we want to discuss scenarios and frameworks in which the Innochain projects can be a base for our future (building) industries.
Please join us for two days of discussions and presentations.
October 12-13 Public Sessions & Presentations

Schedule
Thursday, Oct. 12th:
09:00 Doors Open & Welcome
10:00 Session #1 (3 ESR Presentations & Discussion)
11:30 Session #2 (3 ESR Presentations & Discussion)
13:00 Break
14:00 Session #3 (3 ESR Presentations & Discussion)
15:30 Meet and Greet at the HENN office
Friday, Oct. 13th:
09:00 Doors Open & Welcome
10:00  Session #4 (3 ESR Presentations & Discussion)
11:30 Session #5 (3 ESR Presentations & Discussion)
13:00 Break
14:00 Panel discussion
15:30 Innochain Exhibition opening
Each Session consists of 3 presentations from ESRs of the InnoChain Research Clusters "Communicating Design", "Simulating Design" & "Materializing Design" and is followed by public feedback and discussions.
No registration required. All presentations will be held in English.
About the Innochain Winter School
This one-week programme is a forum for exchange and innovation within and beyond the 15 projects in the European InnoChain network. Placed in 6 of Europe's leading architectural universities and in collaboration with 15 of the most innovative companies in the building industry, the research projects investigate new ways of designing, communicating and materializing architecture through digital fabrication and simulation. Where research is often confined in academic circles the InnoChain Winter School investigates new avenues for collaboration between research in academia and practice. Within the InnoChain Winter School at HENN each project is with the help of experts in business and innovation development developed in terms of future application and development in the building industry.
On October 12th and 13th the results of this incubation are presented. We look forward to a rich and mindful discussion about the future of the architectural practice and how the current research agendas within the network might shape our future. We invite the public to discuss with the researchers and their industry partners as well as academic institutions and enter an exchange of ideas, concerns and concepts.
The presentations will culminate in the opening of the Innochain exhibition on Friday 13th.
About Innochain
The InnoChain ETN network is a shared research training environment examining how advances in digital design tools challenge building culture enabling sustainable, informed and materially smart design solutions. The network aims to train a new generation of interdisciplinary researchers with a strong industry focus that can effect real changes in the way we think, design and build our physical environment.
The programme investigates the extended digital chain as a particular opportunity for interdisciplinary design collaboration. Challenging the traditional thinking of design as a linear process of incremental refinement, InnoChain identifies three axes of design innovation potential communication, simulation and materialization appearing as distributed and interdisciplinary activities across the design chain. Situating feedback between design processes as a key concern for developing holistic and integrated design methods, the network will develop new interdisciplinary design methods that integrate advanced simulation and interface with material fabrication.
With a strong inter-sector focus, InnoChain connects "research in practice" with "research in academia". Assembling 6 internationally recognised academic research environments leading research into computational design in architecture and engineering and 14 innovation pioneering industry partners from architecture, engineering, design software development and fabrication, the programme will establish a shared training platform for 15 early stage researchers. The network creates a structured training programme focussed on supervision of individual research projects, an inter-sector secondment programme as well as collective research events including workshop-seminars, colloquia, Winter School and research courses that provide a unique opportunity for young researchers to obtain new knowledge and skills positioning them between strong innovative research practice and influential industrial impact.
Winterschool organiser: Prof. Moritz Fleischmann
Aademic & Industry Partners

Sponsors & Funding

Merken