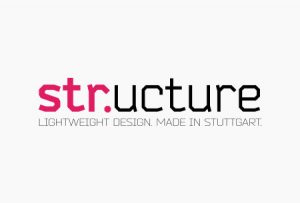 str.ucture
Stuttgart, Germany
str.ucture is an engineering company committed to the development of innovative lightweight solutions. We are experts on specialised methods of calculation and simulation. Our strength lies in turning complex analyses into solutions for challenging design tasks. str.ucture is a company of consulting engineers registered with the Baden-Württemberg Chamber of Engineers.
str.ucture stands for a design process where structures or components optimally fulfill their mission with minimal materials usage and minimal manufacturing effort. Perfectly shaped design is clear, simple, and logical. It is the aim to achieve more with less. Innovative thinking and solution-oriented methods of the Stuttgart school have strongly influenced our development.
Our qualification is due to internationally renowned engineers such as Fritz Leonhardt, Frei Otto, Jörg Schlaich, Jan Knippers and Werner Sobek. Together with excellent teachers like Jürgen Bradatsch, Eberhard Haug and Kai Uwe Bletzinger they served as inspiring examples and convince us that the secret of lightweight design lies in constantly expanding the limits of what is achievable.
People