INNOCHAIN CONFERENCE 2018
EXPANDING INFORMATION MODELLING FOR A NEW MATERIAL AGE
8.-9.November 2018
DAC / Danish Architecture Center
Innochain invites to the international conference Expanding information modelling for a new material age. It will take place in Copenhagen on 8.-9. November 2018 at the Danish Architecture Centre in the new Blox building by OMA. The conference is organised in collaboration with the Danish BLOXhub organisation and aims to create a forum for transdisciplinary and entrepreneur driven research.

The Challenge
Information modelling challenges the way we think, design and build architecture. By creating a shared digital platform it enables the emergence of a new hybrid practice in which otherwise separate tools and methodologies of design, analysis and fabrication can intersect. Current design practice is invested in the prototyping of these new methodologies. Across the building industry and in research we see a collective push for understanding how this new digital chain can be structured, what are productive exchanges and how a new sense of feedback can lead to smarter design solutions.
What is at stake here is the future of the information model. Expanding simple BIM with more complex requirements to engage and capitalize on analysis, to steer multi objective design spaces and to interface and control fabrication necessitates new kinds of representations that can handle data rich design enquiries, enable collaboration and manage
the complex and cyclical nature of feedback.
The Conference
The InnoChain conference presents the leading examples of this hybrid design practice. It presents innovative projects from practice and research that highlight strategies and tools for interdisciplinary collaboration, advanced design optimisation and material rethinking.
Projects that:
– Connect early design thinking with structural and material analysis
– Devise advanced algorithmic approaches to navigate data rich design
– Expand material thinking through novel fabrication processes
– Engage interdisciplinary design innovation
It does this through open formats to foster debate and exchange in different types of presentations, sessions and keynotes in dialogue:
Shigeru Ban Architects, Taro Okabe in conversation with Fabian Scheurer, Design to Production
AKT II, Hanif Kara in conversation with Sam Wilkinson, Foster and Partners
Philip Yuan, Tongji University in conversation with Areti Markopopolu, IAAC
A central part of the conference are case presentations of innovative projects, that showcase results from new types of collaborations between "research in practice" and "research in academia" through working on buildings, constructions, design and data model. Individuals and teams from small young, as well as large and established groups and companies, which will provide new insights and outlooks in terms of advanced information modelling and its application in computation, integration of simulation and design to fabrication processes.
We welcome keynotes and presentations from:
Buro Happold Engineers, Proving Ground, DTU, BIG, UCL, Zaha Hadid Architects, Aalborg University, CN3, Robots In Architecture, White Architects, XTree Paris, 3XN, Dorte Mandrup Architects, Bollinger-Grohmann Engineers, Uni Stuttgart, IAAC, ITKE, University of Southern Denmark, CITA, Angewandte Vienna, Smith-Innovation.
DATES AND VENUE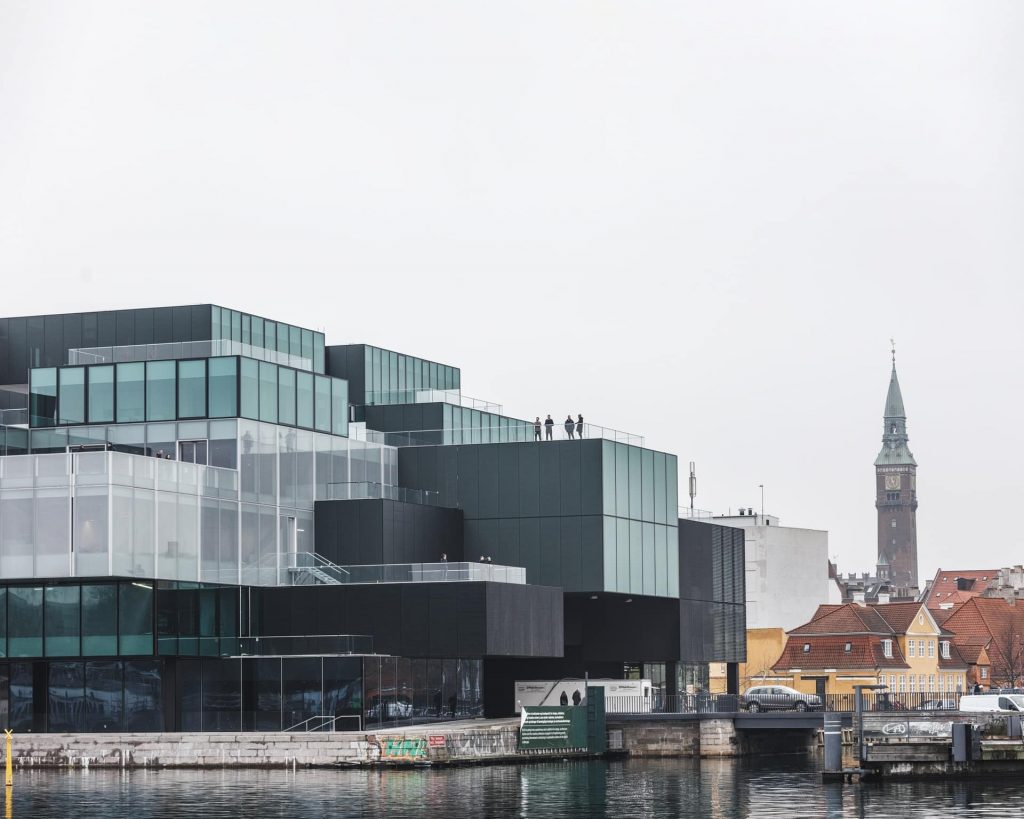 8-9 November 2018
BLOX / Danish Architectural Centre
the new Blox building by OMA, which opened May 2018.
www.blox.dk
Bryghuspladsen 10
1473 Copenhagen K
Denmark
Google Maps
– 2 day conference
– 1 evening social program with boat tour through Copenhagen
– Reception in the Innochain exhibition at KADK
– 1 day Bloxhub pre-conference workshop: 7 November 2018, Bloxhub space.
More info: Program
REGISTRATION FOR THE CONFERENCE
The registration fee for the conference includes access to the conference at BLOX, catering for the day and the social program of the evening.
Professionals 1.600 DKK incl. VAT
Students incl. PhD 750 DKK incl. VAT
*If you buy a ticket with a student price you need to be able to present a proof of student status upon arrival.
ACCOMMODATION
We recommend:
Mid Price: WakeUp Hotel Borgergade or Bernstorffsgade
Budget: DanHostel Copenhagen City or Generator
Style: 71 Nyhavn Please refer when booking to "Det kgl. Danske Kunstakademis skoler"
QUESTIONS OR SUGGESTIONS
If you have questions realted to the conference, please contact the organises via mail.
WHAT IS INNOCHAIN ?
The InnoChain ETN network is a Marie Curie Horizon 2020 shared research training environment examining how advances in digital design tools challenge building culture enabling sustainable, informed and materially smart design solutions. With a strong inter-sector focus, InnoChain connects "research in practice" with "research in academia". Assembling 6 internationally recognised academic research environments leading research into computational design in architecture and engineering and 14 innovation pioneering industry partners from architecture, engineering, design software development and fabrication, the programme will establish a shared training platform for 15 early stage researchers.
Industry partners: Fosters+Partners, White Architekts, BIG, Henn, ROK, Cloud 9, Buro Happold, Str.ucture, Design To Production, Smith Innovation, Blumer Lehmann, SForm, Mc Neel, Fibre
Academic partners: CITA (KADK), ITKE (University of Stuttgart), Bartlett (UCL), IAAC-UPC (Barcelona), IOA (Wienna), KTH (Stockholm)