Blumer Lehmann secondment
---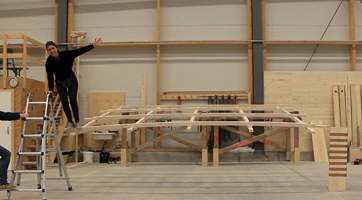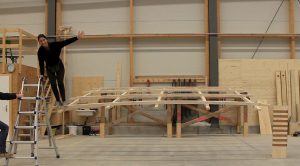 The last months I have been working on scaling up the micro-scalar (1 dm) dynamic behavior of wood veneer into macroscalar dynamic wooden structures (10m) exploring controlled bending-active systems.
From the 6th till the 18th of November  I conducted my secondment in Blumer Lehman in Gossau, Switzerland with the aim to construct a 1:1 scale testing prototype of a self-organized cantilevering wooden gridshell. The linear elements of the structure, with uniform rectangular cross section 60×60 and length of 4-5 meters, have been fabricated with a Hundegger K3. The fabrication of the aforementioned small cross section elements has been proven rather challenging but after several trials of different fabrication strategies the fabrication data were smoothly produced and assembled into the 1:1 structure.
Watch the video of the secondment here.