ICD/ITKE Research Pavilion 2016/2017
---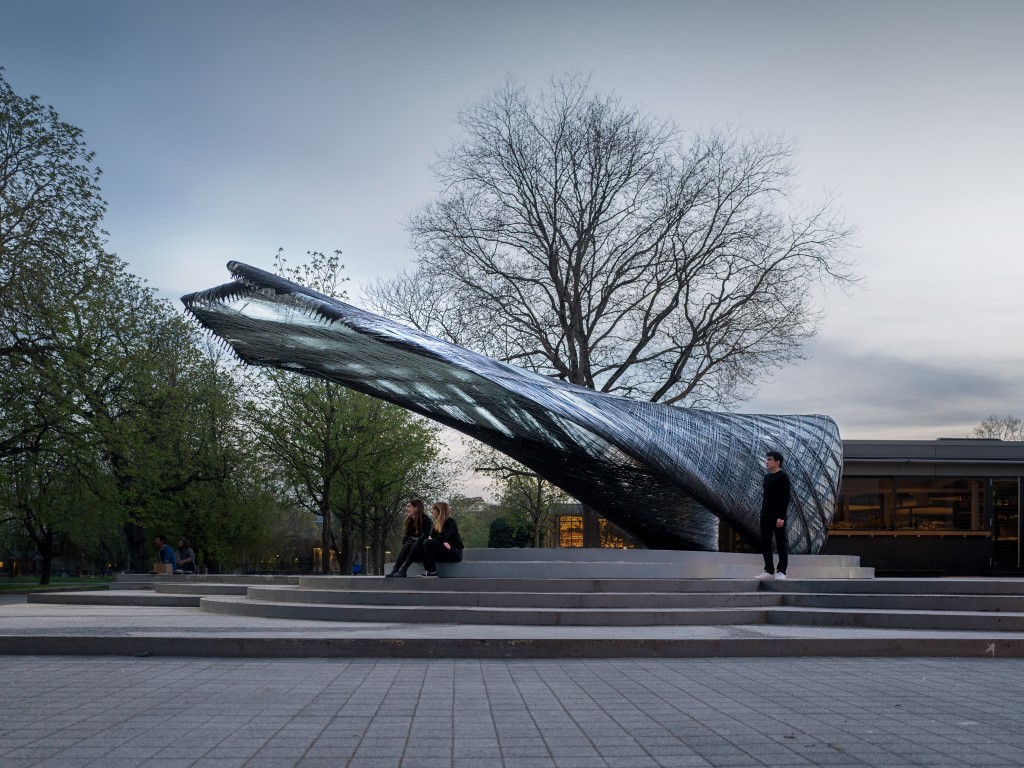 AUTHORS: James Solly and Saman Saffarian
Lightweight, Long-Span Fibrous Construction
Since October 2015 Sam and James have been working on the ICD/ITKE Research Pavilion 2016/2017 that was developed within the ITECH Master Studio. The recently-unveiled Pavilion was created to test alternative scenarios for architectural application by developing a manufacturing process for long span continuous fibre structures.

Using 184km of glass and carbon fibre, the pavilion was completed in time for the Fabricate 2017 conference and covers an area of 12m x 2.6m with a maximum height of 3.1m and a total mass of 1000kg.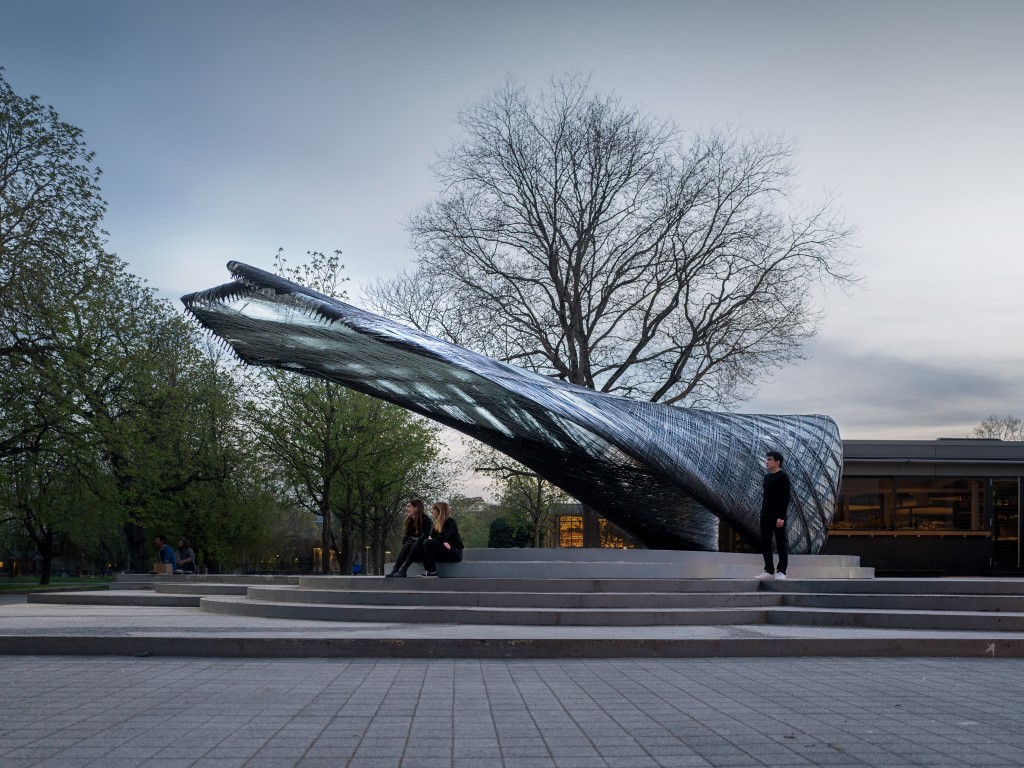 Innochain Researchers
James and Sam, as part of a wider group of researchers from the ITKE and ICD, led the Master Studio as tutors, providing guidance and direction to the student work. They were involved from the beginning to the end of the project working with the group on areas including biomimetic investigation, concept design development, pavilion detail development and the physical aspects of fabrication, site preparation and pavilion transportation.
Pavilion Press Release
The official Pavilion press release can be found on the ITKE website and ITKE facebook page as well as on the ICD Website and ICD facebook page
Pavilion Press Attention
We are honoured that several design blogs have decided to show details of our work to their readership. These include:
Project Credits
These projects are impossible without input from a huge number of collaborators.
Project Team
ICD Institute for Computational Design and Construction – Prof. Achim Menges
ITKE Institute of Building Structures and Structural Design – Prof. Jan Knippers
Scientific Development
Benjamin Felbrich, Nikolas Früh, Marshall Prado, Sam Saffarian, James Solly, Daniel Reist, Lauren Vasey
System Development, Fabrication and Construction
Miguel Aflalo, Bahar Al Bahar, Lotte Aldinger, Chris Arias, Léonard Balas, Jingcheng Chen, Federico Forestiero, Dominga Garufi, Pedro Giachini, Kyriaki Goti, Sachin Gupta, Olga Kalina, Shir Katz, Bruno Knychalla, Shamil Lallani, Patricio Lara, Ayoub Lharchi, Dongyuan Liu, Yencheng Lu, Georgia Margariti, Alexandre Mballa, Behrooz Tahanzadeh, Hans Jakob Wagner, Benedikt Wannemacher, Nikolaos Xenos, Andre Zolnerkevic, Paula Baptista, Kevin Croneigh, Tatsunori Shibuya, Nicoló Temperi, Manon Uhlen, Li Wenhan. With the support of Michael Preisack and Artyom Maxim.
In collaboration with:
Institute of Aircraft Design (IFB) – Prof. Dr.-Ing. P. Middendorf, Markus Blandl, Florian Gnädinger
Institute of Engineering Geodesy (IIGS) – Prof. Dr.-Ing. habil. Volker Schwieger, Otto Lerke
Department of Evolutionary Biology of Invertebrates, University of Tuebingen – Prof. Oliver Betz
Department of Palaeontology of Invertebrates, University of Tuebingen – Prof. James Nebelsick
Supported by
Volkswagen Stiftung
GETTYLAB
Kuka Roboter GmbH
Peri GmbH
SGL Technologies GmbH
Hexion Stuttgart GmbH
Ed. Züblin AG
Lange Ritter GmbH
Stahlbau Wendeler GmbH
Leica Geosystems GmbH
KOFI GmbH

Researchers on this project have received funding from the European Union's Horizon 2020 research and innovation programme under the Marie Sklodoska-Curie grant agreement No 642877, from the Collaborative Research Centre CRC 141 of the German Research Foundation and from the Volkswagen Stiftung's Experiment! funding programme