Digital Design & Full Scale Fabrication Course – IoA
---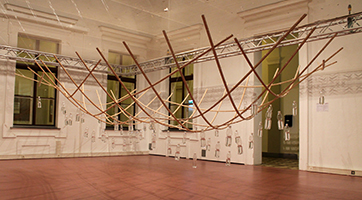 DYNAMIC ACTIVE BENDING STRUCTURES
"The form is a system which organises itself in the presences of both internal and external forces and these organizations can shape patterns traced through mathematical rules."
D' Arcy Thompson
In this framework, this 5-days course focuses on the creation of controllable, dynamic, active-bending timber sctructures, using loads as the actuators. The participants experimented with linear wooden elements (laths), where the milled geometry between them defines the overall deformation of the system. The course combines digital simulations of form finding (Kangaroo) and structural analysis (Karamba) with physical prototypes, fabricated by robotic milling. The final outcome is a 1:1 grid-shell structure which has been fabricated flat and has been self-assembled into a doubly curved surface due to the applied loads.
DESIGN TEAM
Tutors:
Research: Efilena Baseta ([email protected])
Robotic fabrication: Philipp Hornung ([email protected])
Structural analysis: Andrei Gheorghe ([email protected])
Students:
Adrian Herk, Afshin Koupaei, Aleksandra Belitskaja, Alex Ahmad, Alexandra Moisi, Andrej Strieženec, Anna Tuzova, Ben James, Charlotte Krause, David Rüßkamp, Jan Kováříček, Jelinek Johanna, Jonghoon Kim, Julian Heinen, Kaspar Ehrhardt, Leonie Eitzenberger, Ludmila Janigova, Madeleine Malle,  Michael Tingen, Minho Hong, Polina Korochkova, Rudolf Neumerkel, Sadi Özdemir, Shaun Mccallum, Toms Kampars, Zarina Belousova.
Special thanks to the department of  Wood Technology and the Robotic Lab of the University of Applied Arts of Vienna (Angewandte).
Dates: 14-19/12/2017
Location: Institute of Architecture – University of Applied Arts of Vienna, Austria
Course official link here.