Wood veneer digital and physical experimentation
---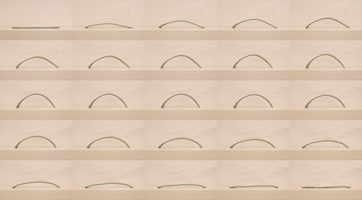 Simulating Anisotropic material // wood veneer digital and physical experimentation from efilena baseta on Vimeo.
This research investigates solutions to design a real time, adaptive to weather conditions self standing system, perceiving structural elements as soft robotic actuators triggered by shape changing materials.
By applying hierarchical structural material systems to fibrous composites, self actuation can be achieved in similar ways as in plants. The hierarchy and the anisotropic characteristics of the composite is proved to be the driving force of the programmed deformation. Existing materials with augmented structural capabilities and inherent 'intelligence', such as wood, will be used as soft actuators. The investigation of different ways to produce digital simulations of the material, and the system, as well as the use of digital fabrication tools will be a vital part of the design process allowing for accuracy and high performance predictability in such complex design tasks.
At the current stage, physical and digital experimentation of wood veneer have been achieved through computer vision techniques. Color detection codes have been used to extract the colored edges of the wood veneer samples and subsequently have been digitalized. This process enables an accurate digital representation of the material deformation as well as the extraction of various data.